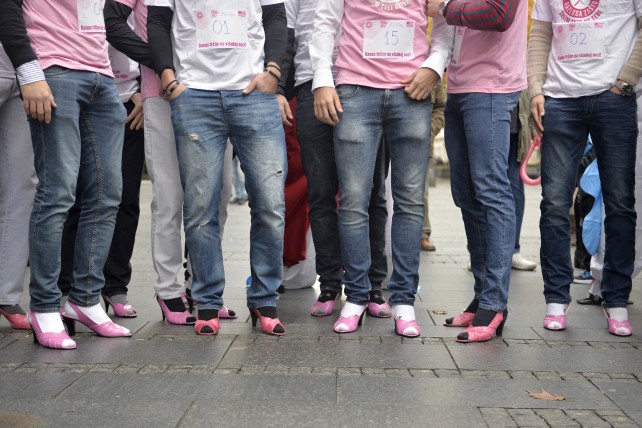 This year again men on high heels supported campaign against breast cancer
Pink colour and messages of support in the centre of Belgrade
Saturday afternoon of October 22nd, the centre of Belgrade was marked by pink colour and messages of support, where a large number of people gathered in the Pink bazaar organized by Avon, Fond B92 and the US Embassy with support provided by the Ministry of Health and National Association of Cancer Survivorship (NALOR) to mark the Breast Cancer Awareness Month (BCAM).
Educational workshops, pink manicure station and stands with handicrafts attracted the attention of passers-by who took part in the event and gave their support to this important female issue, and went for a joint symbolic walk through Knez Mihailova Street. Spectators enthusiastically greeted bold participants in the traditional Men high heel race, among which there where players of the hockey club Belgrade, who raced in support of all women undergoing breast cancer diagnosis, but also to show support to those who have been successfully cured.
The visitors of the Pink bazaar had a chance to hear from the representatives of health institutions all about the significance of prevention and early diagnosis, but also about the treatment of this serious disease from which around 1600 women die every year in Serbia.
"We would like to motivate as many women as possible to take part in the screening program, which is aimed at early breast cancer diagnosis. Every year in Serbia around 4000 women are diagnosed with this serious disease, and the screening can prolong and save their lives." – said prof Dr Berislav Vekic, State Secretary at the Ministry of Health.
"We launched the campaign against breast cancer in Serbia 12 years ago, and since then we have used significant donations in order to provide the modern equipment for early diagnosis and support programs aimed at raising awareness and providing necessary information to women against this disease. The latest is the donation to the Clinical Centre Nis, to which we are providing significantly improved PACS system for archiving and comparing health data of women examined with mobile mammography."– stated Elizabet Korobcenko, Avon Director for Serbia, Montenegro, Bulgaria, Albania and Macedonia.
"US Embassy supports this initiative not only because of those who lost battle with breast cancer, but also to recognize strength of those who won the fight, and the ones who are currently fighting this disease, and to emphasise jointly with partners the importance of regular check-ups as the most important part of prevention." – said Erika Kuenne, Cultural Attaché at the US Embassy.
"The pink day and the whole month of October, have a special place in our hearts. This is the month when we mostly strive to provide support to women fighting a serious illness and to draw attention of the community to the importance of this support and joint actions. It is our great pleasure that every year new people take part in this event, and we are particularly glad to have great young men from the hockey club Belgrade today with us. Understanding, care and support of all, and especially men, are crucial for healing" – said Veran Matic, President of the Board of Directors of Fond B92.
All citizens willing to support the Campaign against breast cancer can do that by buying Avon Products with the pink ribbon, out of which 100% gross income is intended for purchasing the latest equipment for early diagnosis and programs aimed at raising awareness, and which provide required information about breast cancer to women.