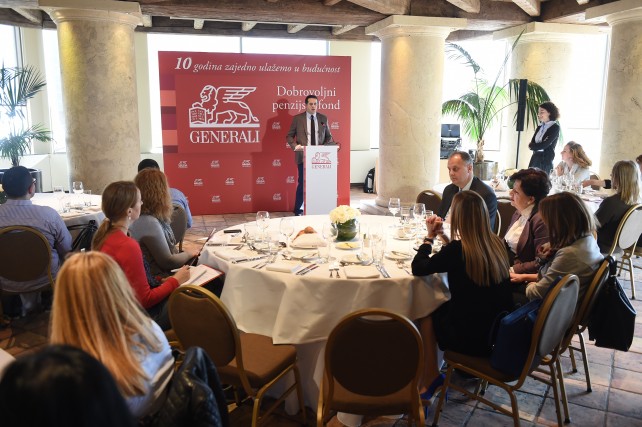 Ten Years of Generali Voluntary Pension Fund celebration
Celebration of a jubilee of the successful business
Ten years after the founding of Delta Generali Voluntary Pension Fund Management Company, the company increased its assets to 9.3 billion RSD and achieved a market share of 29%.
On this occasion, on Monday, November 21, the company organized an event with media representatives at the restaurant Foccacia, the Hyatt Hotel. Over 30 economic journalists willing to find out more about this topic attended the event. Dragan Filipovic, General Manager of Generali Insurance Serbia, and Natasa Marjanovic the member of the Executive Board addressed the audience and presented results that the Fund achieved in last ten years.
Voluntary Pension Fund Generali Basic has been operating with positive results since its establishment. Founded in 2006, Delta Generali Voluntary Pension Fund Management Company was the first company of its kind in Serbia. The Company manages funds Generali Basic and Generali Index, which together have about 53,000 members.
On the occasion of the tenth anniversary of operations, President of the Executive Board of Generali Insurance Serbia Dragan Filipović said: "We are proud of the results achieved by our company for voluntary pension funds. Financial results of ten years of operations, despite an incredibly demanding market environment, reflect the commitment of our people to keep the promise to the customers. Generali stands on solid foundations and is ready to compete and win in today's highly competitive market. As the first company for voluntary pension funds in our market, we have made great effort in the development of industry and raising awareness about the necessity of taking personal responsibility for saving for old age."