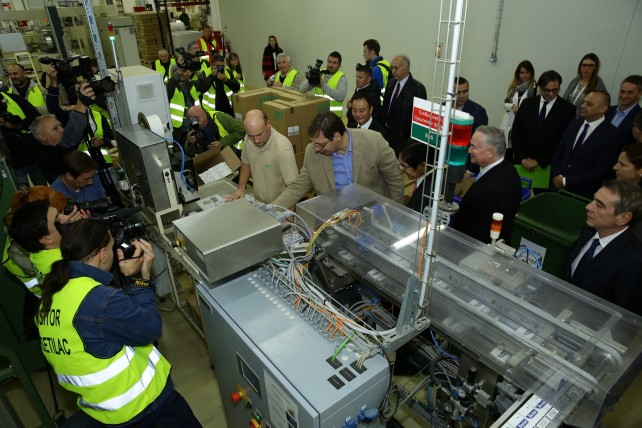 JTI in Serbia – a jubilee filled with success
JTI quadruples jobs over a decade of investing in Serbia, business contributed USD 1.3 billion to the state budget from 2006 to 2016
For its ten years of successful operations in Senta, the tobacco factory, and JTI business contributed USD 1.3 billion to the state budget.
The company increased number of employees almost four times compared to moment of acquisition, from 84 to almost 300, while its local market's share tripled, from seven percent to 21 percent. In addition, JTI secured jobs for 1,000 farmers and seasonal workers.
In JTI's factory in Senta, USD 2.7 million has been invested in 2016 to further expand the tobacco cigarette production, as part of decade-long investments of more than USD 170 million.
At this occasion Thomas A. McCoy, President and Chief Executive Officer of JTI hosted Prime Minister Aleksandar Vucic, accompanied by Goran Knezevic, Minister of Economy, Branislav Nedimovic, Minister of Agriculture and Environmental Protection, Speaker of the Parliament of Vojvodina, Istvan Pastor, and State Secretary at the Ministry of Finance, Nenad Mijailovic, as well as the Ambassador of Japan to Serbia, HE Juchi Takahara and the Mayor of Senta, Rudolf Cegledi.
After visiting the company JTI in Senta, Prime Minister Aleksandar Vučić, congratulated the employees on 10 years of operation in Serbia. "JTI is the fourth company in Serbia in 2015 according to contributions to the Serbian budget, which, as he said, shows the extent of our obligations towards this company. When we improve the fight against illicit cigarette and cut tobacco trade, income of this company will be higher and there will be more funds for health centers, schools, roads and other. The citizens need to understand what tax patriotism means, and that is everybody who pays takes part in constructing buildings, schools…That is why the key question in Serbia is economy growth, but also to know our obligations towards the state, said the Prime Minister and added: "The state's job is to provide three things – better environment, to stop increase of taxes and fees and to make them predictable, but also to be at investors' disposal."
Speaking about the company's achievements and also its plans for the future, Thomas McCoy pointed out: "Back in 2006, I had compared the acquisition to a marriage – a union of two mature businesses bringing together experience, talent and skills. A decade on, I can confidently say, the marriage is healthy. I would like to sincerely thank Prime Minister Vucic and the Serbian and Japanese governments for their efforts in creating a supportive business environment", said Mr McCoy.
"People here are known for their dedication and strong work ethic. They place great importance on family and hold strong values that have enabled this country to make great progress through difficult times. JTI is very fortunate to do business here. But we did not become successful on our own. We have enjoyed a high level of engagement and cooperation along the way, and could not have done it without employees, business partners, the local community – our factory neighbors, the Mayor of Senta", he concluded.
Since purchasing the Senta Tobacco Industry in 2006, JTI modernized the production facilities, and launched the production and export of cigarettes into Montenegro, Bosnia and Herzegovina, Macedonia, Croatia and Albania, as well as the export of tobacco to EU. The value of the export from 2006 to the end of 2015 was USD 174 million.
Thanks to charity projects and voluntary work of its employees, JTI received the prestigious VIRTUS award for 2015 for contribution to the local community.