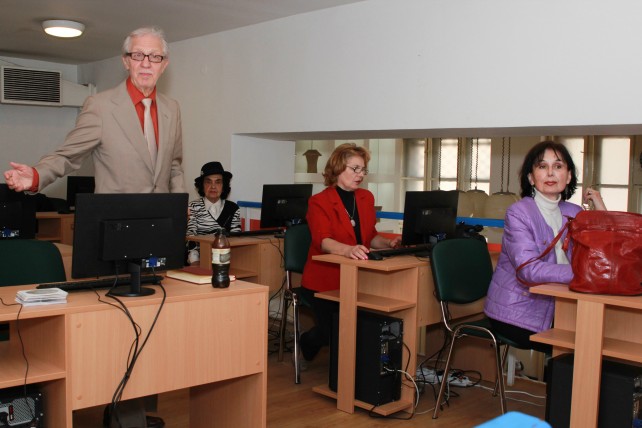 Free computer and creative workshops for elderly citizens
Educational and Creative Centre for Elderly
Opened in Svetogorska Street
Our elderly citizens now have an opportunity to socialise and learn, thanks to the donation of Japan Tobacco International, which made possible the opening of the Educational and Creative Centre for the Elderly within the Daycare Centre/Club for the Elderly in Svetogorska Street. Beneficiaries of the Daycare Centre can now get computer training, as well as various creative workshops where they can acquire new hobbies, such as clay molding or sewing.
Almost one fifth of the population in Belgrade is over 65 years old, and this number is constantly increasing. That is why opening of new spaces where they can spend some quality time is essential in improving the quality of their lives.
Grand opening of the centre was attended by Irena Vujovic, Assistant to the Mayor of Belgrade, and Goran Pekez, Regulatory Affairs and Communications Director of JTI Adriatica.
"We work on constantly improving our services intended to our elderly citizens, which are currently used by around 5500 people. This is one of the 24 clubs that exist throughout Belgrade, and I would like to thank JTI for its social responsibility and for dedicating funds for these purposes. I appeal to other socially responsible companies to join in, so we can revive other spaces of this kind and make them more modern" said Irena Vujovic, Assistant to the Mayor of Belgrade.
"We would like to support the elderly to stay active and remind them that it is never too late to learn a new skill or make a new friend. They can spend some quality time here at the centre, and now they can also improve their computer skills, develop their creativity with handicrafts or simply enjoy the company of their peers. We believe that projects of this type are very important for our society, because they contribute to the quality of life of a large and important social group, which is why we, as a company, will continue to support them in the future as well" said Goran Pekez, Regulatory Affairs and Communications Director of JTI Adriatica.
JTI is continuously investing in helping people over the age of 65, who make almost 18 percent of Serbia's population, according to the latest census. So far, the company has donated funds to the reconstruction of the Home for the Elderly – the Karaburma Centre, renovation and furnishing of the first specialised Daycare Centre for Special Needs Adults in Mirijevo, as well as to the two Daycare Centres for the Elderly in Vracar and New Belgrade. JTI also gives support to the local community in which it operates, where it has supported the reconstruction of the Retirement Home in Golubinci and the Daycare Centre for the Disables Workers in Senta.